Chapel Hill Dance Theater
PETER PAN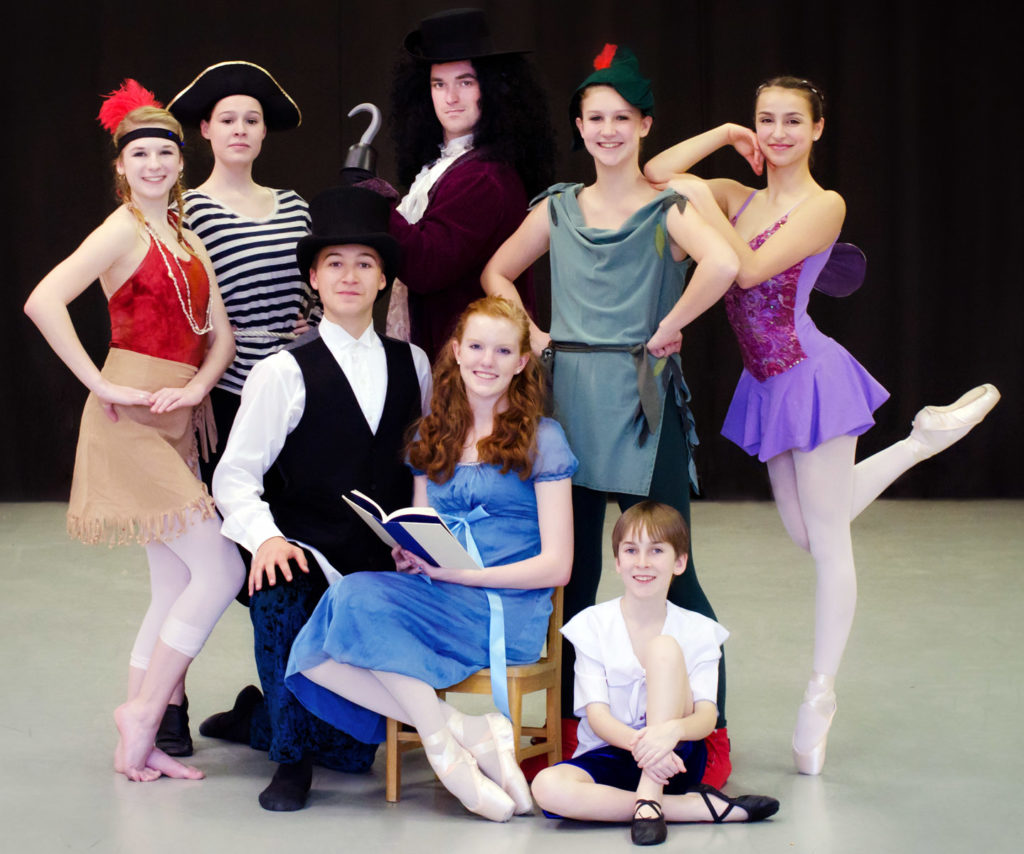 SATURDAY, SEPTEMBER 23
Peter Pan                     Madeline Jensen
Wendy                          Sophia Fort
Tink                              AnaXue Mullane
John                             Narada Baba
Michael                         Oleksiy Fitel
Nana                            Jessica Evers
12:45-1:45  Neverlandians with John (Narada)
Catherine Biglaiser, Ella Carbrey, Bridgette Nally, Ivy Tobin, Tiffany Tsui, Jessie Weiss, Becca Brownstein, Chloe Carroll, Caroline Dear, Lillian Fitts, Lauren Gehrig, Ingrid Russell, Isa Walata, Abby Zachary
1:10-1:55  Mermaids
Grace Bruns, Leala Carbonneau, Kate Cruickshank, Gemma Kate Diaz, Kallie Elam, Jessica Evers, Emily Ford, Carolyn Guan, Allison McCoy, Marina Messura, Isabel Perry, Isabella Reeves Smith, Emily Robers, Ayano Tsukiyama, Yitong Zhang
2:00-2:45  Twilight
Grace Bruns, Leala Carbonneau, Kate Cruickshank, Gemma Kate Diaz, Kallie Elam, Emily Ford, Carolyn Guan, Allison McCoy, Marina Messura, Isabel Perry, Isabella Reeves Smith, Yitong Zhang
2:00-2:45  Lost Boys
Marissa Elam, Ryan Healy, Jennie Kasmir, Sarah Moses, Aries Trimble, Alyssa Ugurlu, Lauren Winkler
2:50-3:50  Stars
Becca Brownstein, Chloe Carroll, Caroline Dear, Lillian Fitts, Lauren Gehrig, Ingrid Russell, Isa Walata, Abby Zachary
++++++++++++++++++++++++++++++++++++++++++++++++
Now in its 22nd season, the Chapel Hill Dance Theater (CHDT), the performance company of the Ballet School of Chapel Hill, provides local dancers with valuable performing experience in annual spring productions such as Alice in Wonderland, Peter Pan, Little House on the Prairie, Peter and the Wolf, and other works choreographed by the company's artistic staff. These engaging performances provide an opportunity for families to enjoy first rate dance entertainment by the breadth of talent here in our community.
Auditions are held in the early fall and most rehearsals occur on Saturday afternoons.
Chapel Hill Dance Theater (CHDT) is a nonprofit organization devoted to the training of young dancers in the Chapel Hill-Durham area. It is the mission of the CHDT to provide invaluable performing experience for young dancers in our community while providing quality entertainment to our audience.