Studio Guidelines & Dress Requirements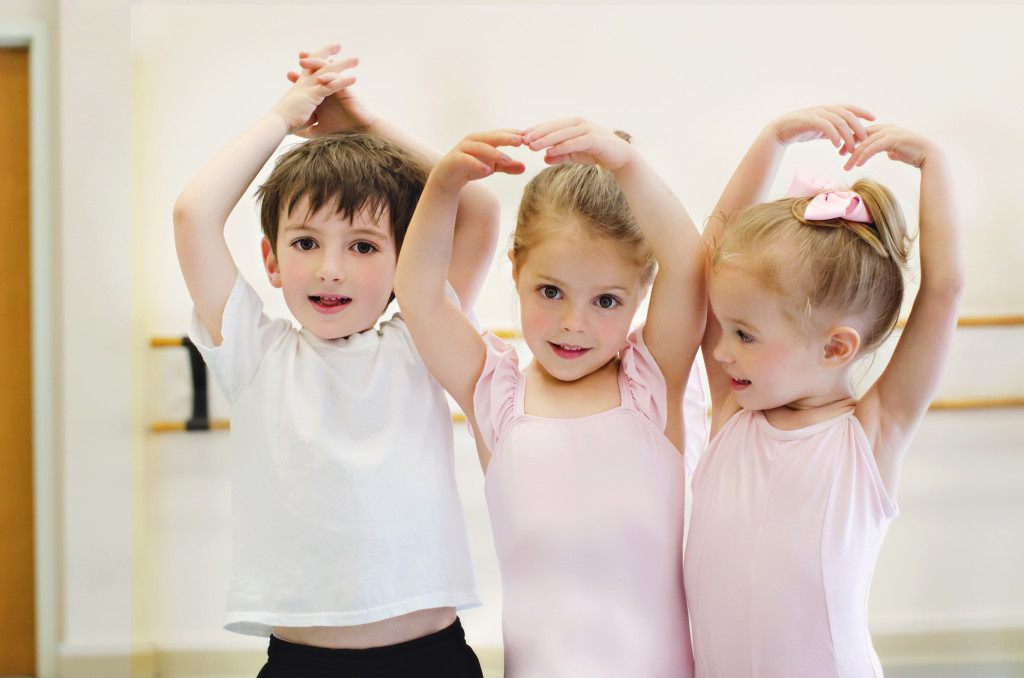 We believe the dance studio is a place to be treasured and respected. It is our highest priority to create a safe, focused, and nurturing environment where our students can learn and grow through the study of dance. We expect you to maintain appropriate behavior and observe these studio guidelines:
Respectful behavior is required at all times. Loud noise and rowdiness in the lobby, hallways, dressing rooms, and studios is not conducive to our learning experience and will not be tolerated.
Students must wait for their teachers before entering the classroom.
Dancers are expected to use the restroom and drink water before, not during, class.
Studios are reserved for dancing. Other activities (i.e. running, cart wheeling, and hanging on the barres) are unacceptable.
Students who arrive late must observe from the hall until a break between exercises, and then ask the teacher's permission to join. Consistent tardiness is unacceptable. (If a dancer is sufficiently advanced, s/he is expected to partially warm-up in the hall.)
Applause is expected at the end of class. It demonstrates your appreciation for your teacher and gives you and your classmates recognition of your hard work.
We welcome our students' families and friends to visit the school and to observe our classes and rehearsals. Each studio is equipped with one-way mirrors so that visitors can watch the dancers without distracting them from their training. Occasionally, a visitor may be permitted to observe the class from inside the studio. This type of arrangement must be cleared in advance and is at the discretion of the class instructor.
Photography and videotaping require advance permission from the Ballet School Administrator.
Dress Requirements for Children:
It is highly recommended that dance clothing and shoes be marked with student's name.
Pre-Ballet: Pink leotard, pink tights and pink ballet slippers for girls. NO TUTUS or COSTUMES. Black shorts, white T-shirt and socks and black ballet slippers for boys.
Ballet: Black leotard, pink tights and ballet slippers or pointe shoes for girls. Hair in a bun. Black tights and dance belt, white T-shirt, socks and black slippers for boys.
Modern/Dance Styles: Leotard and footless tights for girls. Fitted T-shirt or leotard, dance belt and footless tights or jazz pants for boys.
Contemporary Jazz: Leotard, jazz pants or footless tights and black jazz shoes for girls. No jazz sneakers as they prevent proper metatarsal articulation. Tights must be worn under dance shorts. Jazz pants, T-shirt and black jazz shoes for boys.
Hip Hop: Comfortable pants or shorts. No skirts. Black high top sneakers used only for dance class.
Tap: Comfortable pants or shorts. Teacher must be able to see child's feet. Low-heeled tap shoes. Taps may be attached to the shoes at the Ballet School. See Gene Medler for information.
Fencing: Long pants and sneakers. No shorts. Loose, comfortable clothing. All equipment provided by the studio.
Hair for all classes must be pulled away from the face. Long hair must be secured in a bun for ballet & secured tightly for jazz.
Warm-up clothing (leg warmers, loose T-shirts, sweatpants, etc.) is permitted only at the discretion of the instructor.
No jewelry except rings and small earrings may be worn in class.
For Adults:
The above guidelines are good recommendations for adult dancer. Please keep in mind that while you will want to be able to move freely, baggy clothing may prevent your instructor from clearly assessing your placement and technique.