Boys' Ballet Scholarship Program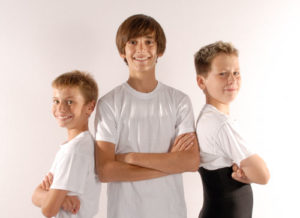 The Ballet School of Chapel Hill is pleased to sponsor a scholarship program in ballet for boys.
The program is intended to support and nurture boys' interest and training in ballet. Dance training offers students the unique combination of demanding physical challenges, equal to or exceeding any athletic activity, and a creative, expressive outlet. This program also promotes self-discipline in a non-competitive environment.
The Ballet School's Boys' Ballet Scholarship Program is open to boys ages 8 and up and is free of charge to those students able to fulfill the course of study. Scholarship students are expected to take a one hour "Boys' Class," and at least one additional ballet technique class at an appropriate level of study (on a different day of the week). Students perform in the Ballet School's annual recital.
Regular attendance and attentive behavior are required to maintain the scholarship privilege.

Modern dance classes are included in the Scholarship Program if they are in addition to the required ballet classes.

Boys assigned to Ballet 4 and above are required to take a minimum of two additional ballet technique classes in combination with Boys Ballet 2 in order to meet the scholarship requirements.

Boys who register for only the Boys' Class will be charged the standard tuition rates.

Students are required to wear suitable dance attire including ballet shoes, T-shirt, and tights or gym shorts.

All new students will be subject to a six week probationary period in order to ensure they possess personal interest and the necessary physical/intellectual/emotional maturity for a Boys' Ballet class.

Parents are responsible for recital costume fees.
For more information, please contact the Ballet School.